J.V. Fletcher Library (Westford, MA)
September 16, 2020 3-4:30 PM: Networking Introductions with Edward Lawrence
Edward Lawrence is the founder and principal of Getstarted LLC (www.getstart-ed.com), through which he offers practical job-search advice, résumé-writing services, and assessments (skills and behavioral) to help people gain meaningful employment or transition to a new career. A certified technical trainer (Comptia CTT+) for over thirty years, Ed himself transitioned to coaching and soft-skills training by studying under some of the area's best counselors, and by volunteering with agencies, such as The Institute for Career Transitions and Career Collaborative. He is a certified professional résumé writer (CPRW) and is certified in Myer-Briggs (MBTI), DISC and Skillscan. For over three years he has facilitated a practice-interview group at the Framingham Public Library. Ed currently works as a group leader for the Mass Council on Aging 50+ Jobseeker Program, and is the résumé writer for the Framingham Public Library.Ed considers education to be so important, that he chose "educate" as his LinkedIn address.
Register by emailing Dina Kanabar at dkanabar@westfordma.gov
---
Tewksbury Public Library
Job hunting is frustrating, stressful, and often agonizingly slow. Just getting a call back is difficult, much less getting an interview. Learn the key elements that will enable you to land the job you want. Learn how to identify the value you bring to your employer and leverage that value to make you stand out from the competition: skills make you a commodity; value makes you unique. Also learn how you can avoid getting caught in the Black Hole of Resumes, how you can get into the mind of the interviewer, how you should deal with difficult questions, and key questions you should always ask. Led by Stephen Balzac, Ph.D. , a consultant, author and speaker. He is the president of 7 Steps Ahead, an organizational development firm focused on helping businesses get unstuck. He is also the author of The 36-Hour Course in Organizational Development and Organizational Psychology for Managers. Sponsored by the Friends of the Library.
---
Boston Public Library / Massachusetts Board of Library Commissioners
September 24, 10 - 11 AM: Power Your Job Search with Google Tools, a Grow With Google virtual workshop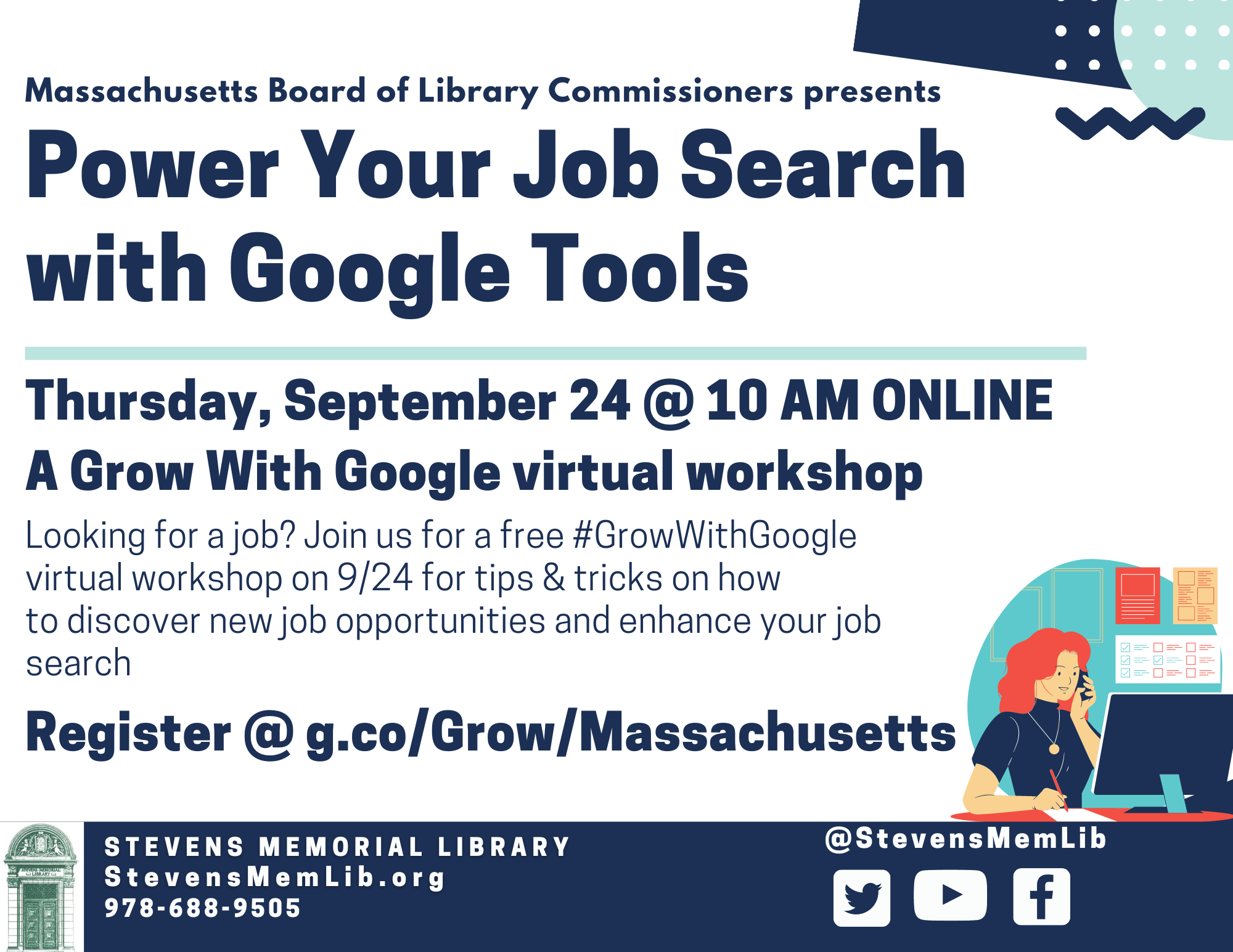 The Boston Public Library, the Berkshire Athenaeum and Massachusetts Board of Library Commissioners are co-hosting a free, online workshop for jobseekers in Massachusetts. Looking for a job? Join us for a free #GrowWithGoogle virtual workshop on 9/24 for tips & tricks on how to discover new job opportunities and enhance your job search